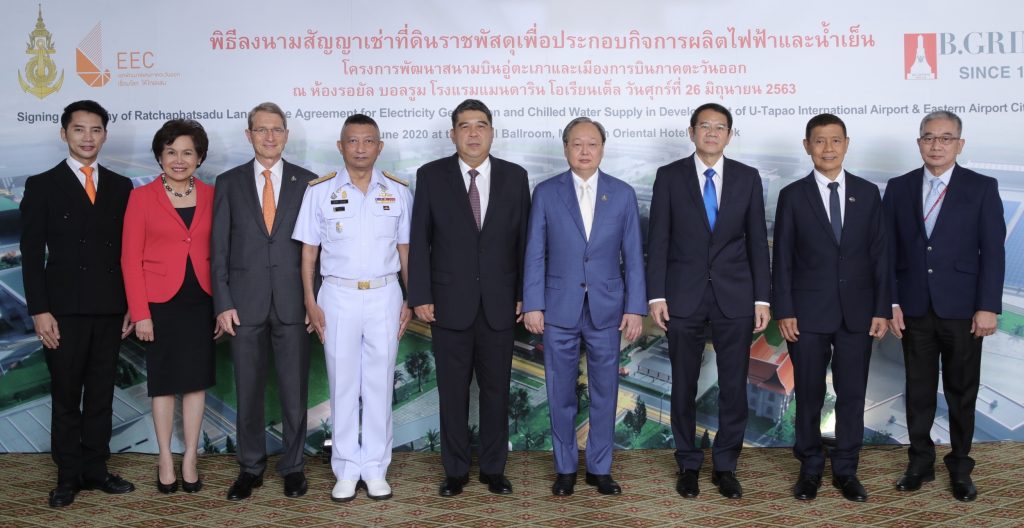 B.Grimm Power Public Co., Ltd and The Eastern Economic Corridor Office (EECO) signed a lease for 100 rai of state land on Friday (June 26) for the production of electricity and chilled water for U-Tapao Airport and the Eastern Airport City's cooling system.
Dr. Harald Link, Chairman of B.Grimm, and Mrs. Preeyanart Soontornwata, President of B.Grimm Power Public Company Limited presided over the Signing Ceremony of the Agreement to Lease State land (Ratchaphatsadu) for the Purpose of Producing Electricity and Chilled Water at the U-Tapao International Airport and Eastern Airport City Development Project between the Eastern Economic Corridor Office of Thailand (EECO) and B.Grimm Power Public Company Limited (BGRIM); and Mr. Sontirat Sontijirawong, Energy Minister of the Kingdom of Thailand and Dr. Kanit Sangsubhan, Secretary-General of the EECO participated in the signing ceremony at the Mandarin Oriental Hotel, Bangkok recently.
The Public Private Partnership Agreement of the U-Tapao International Airport and Eastern Airport City Project is considered one of the key infrastructure investment projects of the EEC to elevate the U-Tapao International Airport to become "Bangkok's Third Major Commercial International Airport", with connection to Don Mueang and Suvarnabhumi International Airports via high-speed rail link. The three airports will be able to accommodate a total of 200 million passengers a year. The region is poised to become the center of tourism industry, the logistics and aviation hub as well as becoming the "Eastern Aerotropolis" thus driving Thailand towards becoming an aviation hub and Asia's economic gateway.
The electricity will be produced using a hybrid system from a co-generation power plant using natural gas and solar farm in line with EEC's key guiding concept of clean energy sources. The system's capacity will be 95 megawatts with a smart energy storage system of 50 MW, The hybrid electricity generation system should be ready for operation in 2024.
The project to produce electricity and chilled water is part of the utilities system development in the U-Tapao International Airport and Eastern Airport City that will prime the area to accommodate the expansion of passengers, logistics and aviation businesses, and the vision of becoming the center for E-commerce businesses and technology hub for aviation.
https://www.bangkokpost.com/business/1941752/b-grimm-initiates-hybrid-power-system