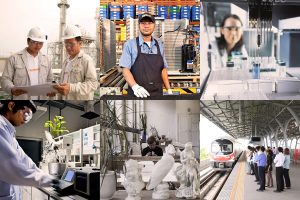 Work at B.Grimm Family
Welcome to B.Grimm! As one of the longest established Thai company in Thailand we have been providing world-class technology for a better quality of life for more than 145 years.
At our company you work in a modern vertically integrated business and contribute to leading market positions in either area of energy, cooling, healthcare, lifestyle, transportation, or real estate. As a company with a European heritage, B.Grimm also stands for a success story as a joint-venture partner of choice, committed to organizational excellence, good corporate governance, protection of the environment and responsible corporate citizenship.
We believe in doing business with compassion. We provide the positive-cultural working environment and development programs to build up your strengths helping you to advance on your career of choice. Moreover, we help employees balance their family life with work and stand by them in good and in difficult times. Help, guidance, financial aid and scholarships all serve to return the loyalty and trust that our staff puts in us. We also invite families to join our various outings or social activities and to get engaged in community support. This way we can lift the spirit of our people at work and support their relationship with their loved ones.
Life at B.Grimm
At B.Grimm we hold the principle that social responsibility starts with your own people. To begin with, every employee has equal opportunities, regardless of nationality, religion, gender, color, age, sexual orientation, or disability. In fact, we welcome diversity in the workplace as it enriches our company and inspires new perspectives.
To provide a working environment that supports the people diversity by supporting them in following their religious practices and in balancing their work and family life. We also offer development and engagement programs of choice. Our people have a chance to select and participate in the program based on their requirement.
In addition, we are in constant dialogue with our employees and notice time and again that our staff takes great pride in B.Grimm's social engagement. Therefore we make sure to provide our employees plenty of opportunities to join our social activities and therewith the chance to extend their care and service beyond their work.