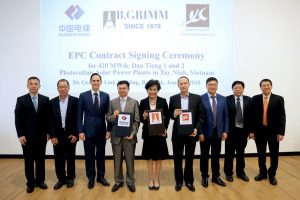 The Thai-Vietnamese joint venture of B.Grimm Power and Xuan Cau has awarded PowerChina International Group a contract to build the largest photovoltaic solar power facility in Southeast Asia.
Posing at the contract signing ceremony for the US$420-million project is B.Grimm Power President Preeyanart Soontornwata (centre), flanked by PowerChina Executive Vice President Ji Xiaoyong (left) and Xuan Cau CEO Dao Trong Khanh.
The 420-megawatt facility,located in Tay Ninh, south-west of Vietnam, is scheduled to start operation in June next year. Beijing-based PowerChina is a leading player in power generation projects. B.Grimm Power Plc is a fledging Thai energy power concern listed on the Stock Exchange of Thailand.
Xuan Cau Group is one of the largest conglomerates in Vietnam, running many diverse businesses such as real estate, trading and services, energy and infrastructure. Mrs Preeyanart said the Vietnamese solar power scheme forms part of B.Grimm's goal to boost its generating equity to 5,000 MW by 2022.